#why-attend-section row-start col-sm-5 col-sm-push-7 right-column row-end counter-box
6,000
+
100
+
Attendees
Exhibitors
row-end col-sm-7 col-sm-pull-5 heading row-end standard-section
Why attend
No matter what business you're in or what challenges you're facing, you'll discover new ideas and innovative technology solutions at Telstra Vantage™. With 45-plus sessions, over 100 exhibitors and the chance to network with thousands of your peers, the opportunities to explore, discover and create are endless.
#whyattend-grid-section row-start col-md-12 row-end standard-section whyattend-grid-section
What can I get out of Telstra Vantage™?

Discover
The best way to learn about something is to experience it first hand, which is what you'll be doing with world-class technology in the Village. You'll be face-to-face with the experts, finding out how you can take what you've learnt to do wonders for your business and your customers.

Find inspiration
Humans are curious by nature. We share ideas. We test them. We build on them. We evolve to be better and more successful than we were before. At Telstra Vantage™, our lineup of speakers will be sharing ideas that will help you evolve.

Your agenda
There are 45-plus sessions in this year's agenda. They cover all the hot topics in business and technology right now, including networks, 5G, IoT, cloud, mobility, security and more.

Network
Meet with your peers, Telstra experts and partners at focused sessions, in dedicated meeting spaces, over coffee and at our networking events. It's a great opportunity to make new connections, learn from each other and create new opportunities.
"The most important thing for us was understanding what is on offer in terms of technology and how Telstra can play a major role in partnering with our business to achieve these goals"
Telstra Vantage™ 2017 delegate survey respondent
#how-can-section row-start col-sm-6 heading row-end standard-section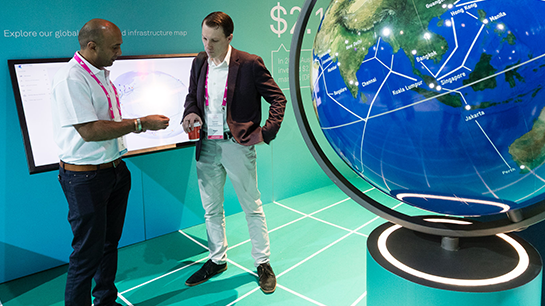 row-end col-sm-6 right-column how-can-box
So, how can we help you?
New technologies are transforming the way we live and do business. The era of digital transformation is here, and anything is possible. The question is how?
Telstra is the answer. We have Australia's largest, fastest and most reliable mobile network and an expanding global footprint. We partner with some of the biggest technology and emerging brands on the planet. We have access to some of the latest technology. We have the business expertise. And it all comes together at Telstra Vantage™. If you want to do wonders for your business and your customers, make sure you're part of it.